Saudi Arabia's Tadawul All Share Index advanced the most in more than three weeks to lead regional gains. Dubai's DFM General Index rose 1.4 percent to the strongest finish since November. The gauge breached its 50 percent Fibonacci level, which shows what percentage of a loss a security has recovered from a low to a high, a sign the rally may continue. The Bloomberg GCC 200 Index, which tracks the biggest and most liquid stocks in the six-nation Gulf Cooperation Council, increased 0.6 percent, gaining for a third day.
Fibonacci levels: Certain percentages tend to act as support and resistance levels, so breaching one is significant.
Investor confidence in the region has been building after oil, which funds the bulk of govement spending, recovered from the lowest in more than a decade. While countries including Saudi Arabia are seeking to diversify their economies away from crude, growth remains largely driven by energy income. The kingdom, which halted payments to contractors as it slashed spending amid oil's slump, said it will pay almost all of its outstanding dues.
"The Saudi govement's announcement that it's settling some debts to construction contractors should benefit Emirati companies operating in the kingdom," said Nabil Farhat, an Abu Dhabi-based partner at Al Fajr Securities. That, along with oil's bounce, is driving the rally, he said.
Dubai Contractors
Brent crude, a benchmark for half the world's oil, surged 6.4 percent on Friday to $41.94 per barrel as U.S. crude production slid for the 10th time in 11 weeks through April 1, according to data from the Energy Information Administration on Wednesday.
Dubai's gauge is less than 10 points away from its 200-day moving average, which it hasn't traded above since August. Drake & Scull Inteational PJSC, an engineering contractor, rose 1 percent as 113 million shares traded, more than three times the six-month average. Union Properties PJSC climbed 2 percent. Arabtec Holding, the United Arab Emirates' largest listed construction company, advanced 4.1 percent as 170 million shares changed hands, more than 20 percent of all volume on Dubai's index.
Emaar Properties PJSC, the developer of Burj Khalifa, the world's tallest tower, added 2.2 percent. The company with the largest weighting on Dubai's index said it would use a combination of debt and equity to fund an even taller observation tower in the Middle East business hub. The company's group Chief Executive Officer Abdulla Lahej has left, according to a statement to the bourse after the market closed. Chief Operating Officer Amit Jain will take on the CEO's responsibilities.
Dana Gas
Dana Gas PJSC jumped 11 percent to 60 fils as traders exchanged more than 146 million shares, the most since July. Investors are realizing the company stands to benefit from a lifting of sanctions against Iran, according to Ahmed Shehada, executive director of advisory and institutions at NBAD Securities LLC. The shares should be priced closer to 85 fils, he said.
Dana and its partner Crescent Petroleum are in "serious talks" with Iran about the country starting gas exports from Salman field, Fars news agency reported last month, citing an unidentified person.
Abu Dhabi's ADX General Index rose 0.7 percent. Kuwait's SE Price Index gained 0.4 percent, and Oman's MSM 30 Index added 0.8 percent, climbing a seventh day. Egypt's EGX 30 Index slipped 1 percent.
Qatar's QE Index fell 0.4 percent. Doha Bank slipped 1.3 percent. The lender said after market close its seeking shareholder approval for a certificate of deposits program of as much as $3 billion, and a commercial paper program of $2 billion. Qatar Islamic Bank rose 0.2 percent even as its U.K. unit was fined by the Bank of England.
Saudi Rating
Saudi Arabia's Tadawul advanced 1.4 percent, led by Al Rajhi Bank. Trading volume on the index was about 25 percent below the 20-day intraday average.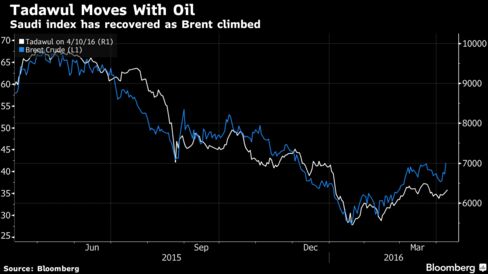 Standard & Poor's on Friday affirmed the country's credit rating, citing the kingdom's strong exteal and fiscal stock positions. The ratings company sees the general govement deficit averaging 9 percent of economic output through 2019. Demand for Saudi Arabia's first sovereign loan in at least 15 years was so high that the govement will probably boost the size of the transaction to about $10 billion, people with knowledge of the matter said.
"The 6 percent rise in oil prices on Friday has triggered the rally," said Muhammad Faisal Potrik, the head of research at Riyad Capital. "Initial results announcements have also been positive. S&P maintaining its ratings with a stable outlook has also helped."
The country's Capital Market Authority on Sunday named the nine foreign institutions qualified to invest directly in Saudi stocks, including HSBC Holdings Plc and Citigroup Inc. The kingdom in June allowed foreigners to trade Saudi stocks directly for the first time.
Israel Drops
Israel's TA-25 Index retreated 0.4 percent, the lowest close in almost six weeks. Banks and pharmaceutical companies led the decline, with Perrigo Co. dropping 3.3 percent.
"Weakness in U.S. markets and generally negative arbitrage" pulled Israeli shares lower, said Saar Golan, a Tel Aviv-based trader at Bank of Jerusalem Ltd.
Cellcom Israel Ltd. rose 3.5 percent to the highest level in almost five months amid efforts by Golan Telecom Ltd.'s CEO to persuade govement officials to allow a merger between the two companies.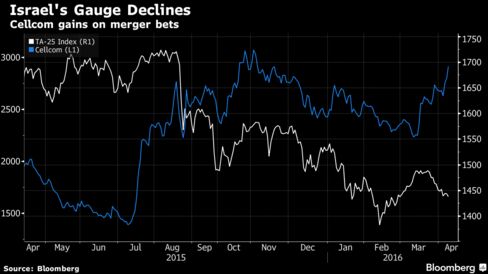 Meanwhile upward pressure on Israel's currency is rising, one of the country's largest investment houses said on Sunday. The Bank of Israel may struggle to contain these forces, since the country is approaching its ceiling for holding foreign reserves, Meitav Dash Investments Ltd. Chief Economist Alex Zabezhinsky said in an e-mailed report.
The shekel on Friday strengthened 0.5 percent to 3.7736 against the dollar, capping a fifth week of gains, the longest rising streak since July.